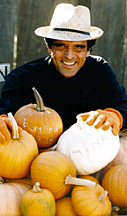 George Levenson
Filmmaker and Author of
PUMPKIN CIRCLE

School Visits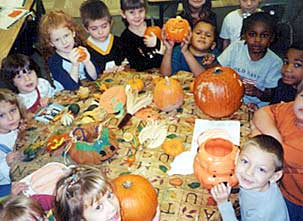 Author/Filmmaker George Levenson is available for speaking engagements and school visits. His presentations provide a unique inside look at childrens' gardening, film making and writing for children.
George's presentations are very hands-on, and he usually starts a session by giving each child in the group a pumpkin seed. He typically brings in several types of pumpkins and a young pumpkin plant to give students a direct sense of the varieties in shape, size, weight and color. Sometimes George will show his Pumpkin Circle video and discuss the history of when and how the film was made, providing students with details such as the actual size of the garden, how long it took to make the film, and how the time lapse sequences were made. George brings along many of the props that were used in the film, including items from the "Pumpkin Museum." Teachers and students can create their own classroom Pumpkin Museums before he arrives, and can then compare their respective collections of pumpkin paraphernalia. Or George can read his Pumpkin Circle book out loud to children, answering questions and projecting slide images from the book. In the process, George offers students ideas and facts about pumpkins as well as how he does his writing and filmmaking. Since he is the gardener in both the book and the video, George gives his presentations dressed in the same clothes as the pumpkin gardener -– straw hat, black pants and black turtleneck, and, of course, orange gloves. Students seem to be very interested that he is both the author and gardener in the book and video.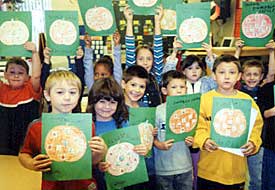 Other programs of varying lengths and content are possible according to age groups and the needs of the school curriculum. George can provide teachers and librarians with ideas for preparing for his visit as well as following up with activities during the school year. He is available for several in class presentations as well as assemblies and book signings.
In addition to the pumpkin theme, George has combined his visits with talks to the older grades (4-6) about his other films, SADAKO AND THE THOUSAND PAPER CRANES and HOW TO FOLD A PAPER CRANE. For more information about this project, visit www.sadako.com
George Levenson, Ph.D., is an award-winning filmmaker and children's author with a long-standing interest and practical experience in teaching environmental awareness and multicultural education. Levenson's films have played in festivals around the world and have received major educational awards including two Parents' Choice Gold Awards, a Gold Apple from the National Educational Film and Video Festival, two CINE Gold Eagles, the Franklin Award from the Columbus International Film Festival, and a Blue Ribbon from the American Film and Video Festival. His work has received the highest ratings from several journals including Booklist (two selections as Editors' Choice for the year), the Video Librarian, and Social Education; and his work has been selected for the American Library Association's list of Notable Films and Videos and for New York Public Libraries list of One Hundred Books for Reading and Sharing.
As well as school visits, George has spoken at conferences and given educational presentations across the country, including:
Ohio State Children's Literature Conference, Columbus, OH
National Association for Horticultural Therapy, Albuquerque, NM
California Science Teachers' Association, San Jose, CA
Children's Gardening Symposium, Chicago, IL
Committee for Sustainable Agriculture, Monterey, CA
Life Lab Science Program, Santa Cruz, CA
Growing Awareness Conference, Phoenix, AZ
Asilomar Reading Conference, Monterey, CA
Santa Cruz Reading Association, Santa Cruz, CA
Partners in Agriculture and Science Conference, Los Angeles, CA
California Agriculture In the Classroom, Fresno, CA
California Kindergarten Association, San Francisco, CA
Please call 800 827-0949 for more information.