PUMPKIN CIRCLE FILM SYNOPSIS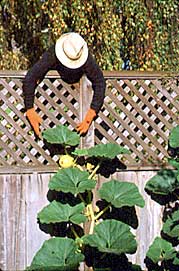 The PUMPKIN CIRCLE video is narrated in verse by Danny Glover. The story, using live-action footage, time-lapse photography, and animations, focuses on an orange-gloved gardener who plants, tends and harvests his backyard pumpkin patch. The film then expands beyond the backyard patch to show the commercial harvest of a large field of pumpkins, giant pumpkins weighing hundreds of pounds, tiny munchkins that fit in the palm of your hand, a montage of glowing pumpkin faces and a time-lapse sequence of a composting jack-o-lantern. The program concludes with a series of pumpkin scenes as a children's chorus sings the old tune "Back in Your Own Backyard" with a bouncing a pumpkin over the lyrics.
Scene by Scene Description
Here is a detailed outline, scene-by-scene, of the style and structure of the film with some sample text and photos.
| | |
| --- | --- |
| | Scene 1 Title Sequence (30 seconds): PUMPKIN CIRCLE opens with an animation of seeds marching onto the screen and forming the letters of the title. A hand wearing an orange glove picks up one of the seeds as Danny Glover says: "The Pumpkin seed makes the pumpkin plant, and the pumpkin plant makes pumpkins." From here the story unfolds to reveal the entire cycle in the life of a pumpkin from sprouting seed to composting jack-o-lantern. |
| | Scene 2 The Pumpkin Seed (3 minutes): the planting and sprouting of a pumpkin seed with time-lapse photography of the roots developing underground and the first leaves popping out of the soil. "When the earth is soft and warm, plant those sleeping seeds. In about one week, out they peek, two fresh, young, fat green leaves." |
| | Scene 3 the Garden Grows (5 minutes): The growth and development of the patch. "Lush green leaves look toward the sky for water, sun and air. They shade the soil and grow as huge as giant elephant ears." The viewer sees buds open into flowers, bees pollinating the flowers, the gardener tending the patch, and the pumpkin patch expanding over time as the young plants fill the garden with leaves, flowers and fruits. "Everyday the growing patch awaits the gardener's hand -- weeding, pruning, watering, inspecting pumpkin land. Help those pumpkins sit up straight so they grow up round and proud. Scratch on pumpkin names so they stand out in the crowd. Or ... just let them be. Relax! Enjoy the view. Pumpkins grow because pumpkins know exactly what to do." |
| | Scene 4 The Harvest Celebration (2 minutes): It's time to pluck the treasures from the vine, cook up pumpkin dishes, and celebrate the abundance of the garden. "Gather up the finished fruit, ripe and fully grown. Tidy up the garden. Make a cozy pumpkin home." |
| | Scene 5 Pumpkins Everywhere (3 Minutes): The story moves out into the big world with scenes that include the harvest of a large commercial pumpkin patch, a display of pumpkin artifacts in the "Pumpkin Museum"; and shots of giant pumpkins tipping the scale at 700 pounds. |
| | Scene 6 Pumpkin Faces. (2 minutes): A series of glowing pumpkin faces including a time-lapse sequence of a composting jack-o-lantern. "Every day those pumpkins change - getting older ... getting strange. Sinking, shrinking pumpkin, back to earth you go, turning into muck and dirt, a place for seeds to grow." |
| | Scene 7 Back In You Own Backyard (2.5 minutes): A montage of many unusual pumpkin scenes to the tune of the classic song "Back in your own Backyard." George Winston plays lively stride piano for a chorus of children's voices while a bouncing pumpkin keeps time over the lyrics on screen. "You'll find your happiness lies, right under your eyes, back in your own backyard." |
| | Scene 8 The End is the Beginning (2 minutes): End credits as we watch the gardener clean up the pumpkin patch and prepare for a new planting. |