Order the
DVD!
Now Available
on DVD & VHS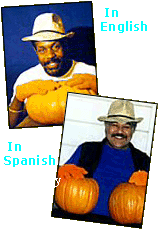 PREVIEW A CLIP:
Quicktime (5.4MB)
or
Windows Movie (3.1MB)
Welcome!
We produced PUMPKIN CIRCLE, the award-winning 20 minute video narrated by Danny Glover with music by George Winston. Parent's Choice gave PUMPKIN CIRCLE their Gold Award and the video was selected by BOOKLIST as Editor's Choice.
The Pumpkin Circle DVD includes a Spanish version entitled El CIRCULO DE LAS CALABAZAS. It has the same engaging video footage, the same lively music, and a sparkling narration by Luis Valdez .
PUMPKIN CIRCLE is also a critically acclaimed picture book – available in English and Spanish -- published by Tricycle Press - forty pages of full color photographs with text in verse. It was selected by BOOKLIST as one of its Top Ten Science Books for Youth.
The PUMPKIN CIRCLE video and book are suitable for ages 4 and up. They capture life in the pumpkin garden with time-lapse photography of seeds sprouting, flowers opening, bees buzzing, pumpkins growing, and jack-o-lanterns glowing.
This website is for teachers, parents and pumpkin lovers around the world who want to learn about the miraculous cycle of nature that unfolds in every pumpkin patch. We invite you to grow pumpkins, watch our video, read the book, and link with others who are engaged in garden-based learning.